Cutting Edge Lawn Care Springfield IL - Top Rated Lawn Company for Mowing and Fertilization and Weed Control
We provide the professional lawn care Springfield IL homeowners and businesses are looking for at affordable prices. In addition to our expert mowing skills, our company provides fertilization, weed control, core aeration, overseeding and do a wonderful job with crabgrass control, fall clean up and spring clean up at an honest and fair rate like a great Lawn Care Company should. We cater to both residential customers and also provide commercial care for your business.
Great Mowing Services For Springfield area Residences And Businesses
Our company has been offering local residents and businesses professional mowing services for years.  Our teams do it a bit differently though.
Click To Call And Get A Free Quote For Residential Or Commercial Services.
Lawn Care Services Everyone In Springfield IL Wants
We provide top quality lawn care services at prices that will put a smile on everyone's faces.  No, our company is not the least expensive, but our experienced crews do provide the upmost in quality and dependability.  Isn't that what you want from lawn care companies?  Getting your lawn service job done quickly and efficiently and not having to worry if the job is done right?  That is why we are here and why our top rated lawn care business has continually provided exceptional quality for so many years.
Yard Weed Control And Fertilization Program
Our company can provide Dandelion and Broadleaf Weed Control, Crabgrass Control and Prevention, fertilization and weed control. Our lawn care services professional crew are certified by the State of IL We provide services for residential and commercial properties with our locally owned Springfield lawn care weed and feed fertilization business.
Lawn Maintenance Services for home and business
We take the hassle out of getting these things done by doing the beautiful lawn care and landscaping  that is needed to keep your Springfield front and backyard or commercial property looking great including mowing and trimming and leaf removal . Lawn maintenance services at it's best!
Landscape Maintenance For Home And Business
We make sure that your landscaped areas are properly maintained also.  Tree and shrub pruning, fall and spring cleanup, gutter cleaning and extensions, flower bed maintenance, and mulch supply are just a few of the things our lawn maintenance business can do for your Springfield property.
Mulch Supply And Installation
We provide mulch, bulk mulch and full service mulch delivery and installation services for both homeowners and businesses in Springfield IL.  Our products include traditional premium hardwood mulch and dark brown dyed premium fade resistant colored mulch also.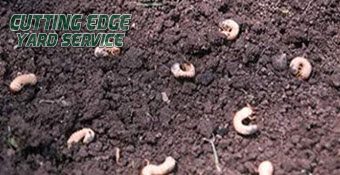 Lawn Pest Control Service
Pest control is a common lawn care service that can be provided for home owners and businesses in Springfield.  Grubs can devastate your turf by eating all the roots of your grass.  Fleas, ticks and mosquito control are other common problems that are offered as one of our services. 
Core aeration and overseeding is one of the huge keys for getting thick green grass in Springfield IL.  This service is best done in the fall but can be done in the spring also.  The aeration process allows more nutrients to reach grass roots.
Weed Control Landscaper - Weed Bed Control
Weed control is also an important part of our services in flower beds and other landscaped areas in Springfield.  We love making sure that during planting of shrubs, trees and other types of plants are not bothered by weeds in the future.
Spring And Fall Lawns Cleanup Projects
Yard clean up services are offered all throughout the year in Springfield, but traditionally this lawn care service is performed in either the Spring or Fall and helps your yard look better and also allows sunlight and nutrients optimally reaches the roots of your grass easier.
Illinois Home And Commercial Fall Leaf Cleanups
Leaf clean up is a MUST if you want your house looking great.  Removing leaves from your Springfield residence or commercial property keeps us busy during the late Fall season when old man winter gives us the indication that he is on the way..
Additional Lawn Care Services Available
Gutter Cleaning
Downspout Elongation
Tree And Shrub Trimming
Tree Circle Landscaping Project
New Grass Planting
Commercial lawncare
Property Maintenance
Dethatching
Pressure Washing
Slit Seeding
HydroSeeding
Bulk Mulch Delivery
Spot Yard treatment
Push mowing
Interested In A Caring Sangamon County Il Lawn Company - Click To Call Us Now!
Schedule an appointment for free cost information today!
Reviews From More Of Our Great Lawn and Landscaping Customers
Illinois Landscape Design, Lawn Mowing and Trimming Images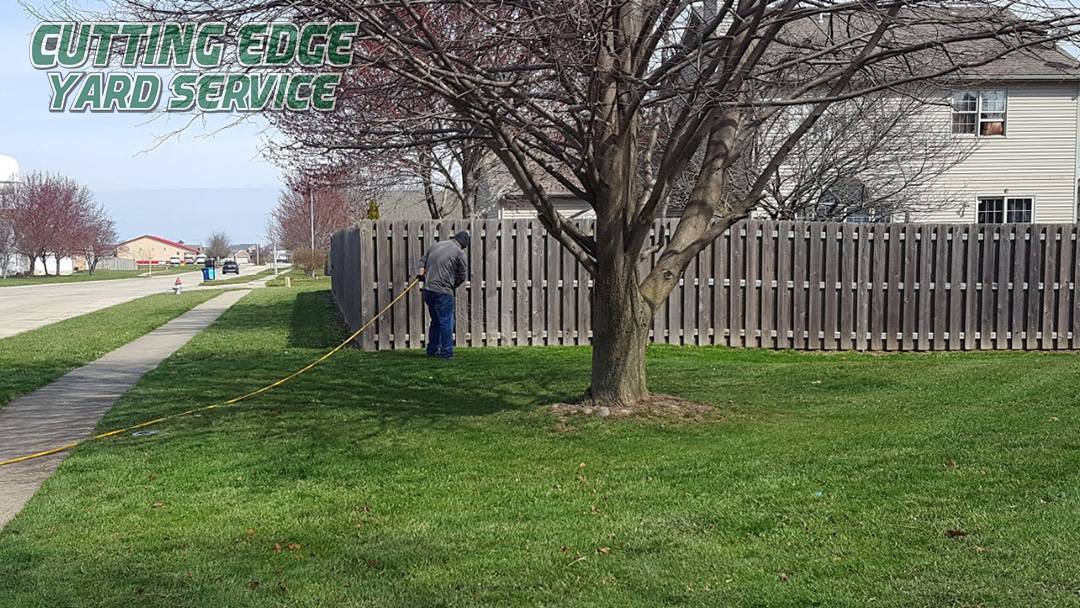 As a locally owned lawn company, our lawn care services and landscaping staff are very proud to offer the top lawn services for residential lawn customers as well as commercial service for Illinois business owners.  Our commitment  and promises include providing you with the utmost in service at affordable prices.  We only provide lawn care inside Illinois and Springfield is our most busy IL lawn and landscaping service area.  Cutting Edge Yard Service has the experience and has been proudly serving Springfield and the surrounding community for many years.  We also provide lawn care in the surrounding cities of Sherman, Chatham, Glenarm, and Rochester IL and in all the zip codes.