Lawn Care Springfield IL From Top Rated Service
We provide the professional lawn care Springfield IL homeowners and businesses are looking for at affordable prices. In addition to our expert mowing skills, we provide fertilization, weed control, core aeration, overseeding and do a wonderful job with crabgrass control, fall clean up and spring clean up at a honest and fair rate. We cater to both residential customers and also provide commercial care for your business.
Great Mowing Services For Residences And Businesses
We have been offering the good folks of Springfield lawn care and mowing services for years.  We do it a bit differently though.
We Provide The Lawn Service And Maintenance Everyone Wants
We provide top quality services at prices that will put a smile on everyone's faces.  No, we are not the least expensive, but we do provide the upmost in quality and dependability.  Isn't that what you want?  Getting the job done quickly and efficiently and not having to worry if the job is done right?  That is why we are here and why we have continued to stay in business for so many years.
Fertilization And Weed Control
We provide Dandelion And Broadleaf Weed Control, Crabgrass Control And Prevention, fertilization and weed control and are certified by the State for residential and commercial properties with our locally owned pest control business.
We take the hassle out of getting these things done by doing the beautiful lawn and landscaping  that is needed to keep your front and backyard looking great including mowing and trimming and leaf removal .
We make sure that your landscaped areas are properly maintained also.  Tree and shrub pruning, fall and spring cleanup, gutter cleaning and extensions, flower bed maintenance, and mulch supply are just a few of the things we can do.
Illinois Lawns - Free Quote For Caring Services From Us Today!
Schedule an appointment today!
What Our Great Customer Have To Say About Our Company
Mowing,Trimming And Landscaping Design Images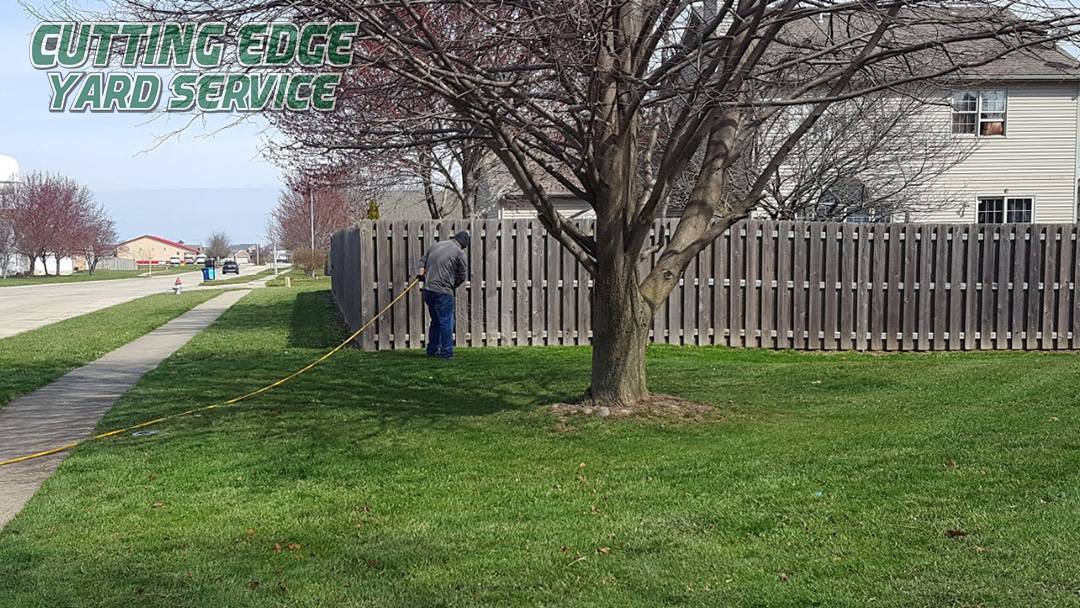 We Care So We Offer Free Quote On Home Projects Today.
Want
the great pro
design
and a price
estimate
at your location today.  The state of
Illinois
is a wonderful place and we would love to watch your grass and turf improve.  Let our
Springfield lawn care
staff help by giving you a complementary quote for your next
project
design from a qualified team of professionals. .Please check out and observe the project information that we have and can
design on our landscaping main page
and receive a
free landscaping home services quote
.We do gutter cleaning and gutter extensions.  We usually do not do pressure washing but may do so on special request.  We regularly do fall cleanups.  We are proud to work with residential and commercial properties.  We are proud to work here inside the city but also serve most of Sangamon county and the surrounding area.  Of course we are also a landscaping company and you can find that by clicking on the link.  We enjoy making great outdoor living spaces that . In the fall we do leaf cleanup and leaf removal.   Of course part of our specialty include pest control.  We do a limited amount of snow removal on a winter day.  Of course we are locally owned and would love to earn your business as we know that we are the best mowing and trimming company that does some gutter cleaning and pressure washing for all living spaces and of course our mowing and trimming make our team the leaf removal company that will earn your business as a  residential and commercial customer . 
Home design project with a lawn care quote and find out what we can do for you
. You can find out more about our company on this page
get home design project request location pro
Please contact our team for a wonderful design project that you can see as the project approaches and then understand the project and view the progress.As far as fall cleanups go we do very much leaf cleanup for all outdoor living and you can see and comprehend more projects that are available by clicking on the link here
home design project at your location
Please view the design and find a day for today and find out and see your future project .Please also check out these great pages:Our
sitemap that get home design project request location pro and see this location quote
Free estimate for landscaping style design Chatham